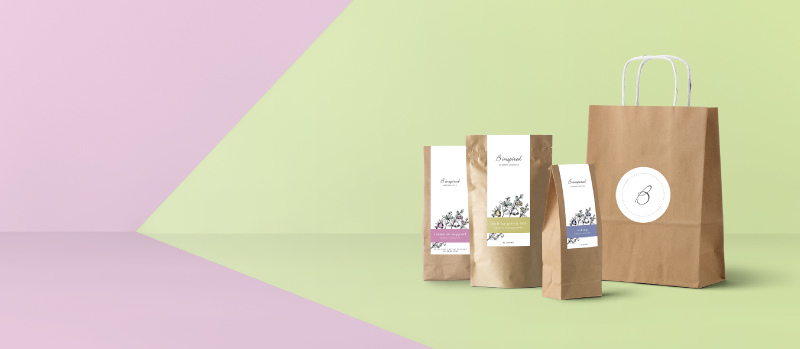 We work with a lot of health-conscious product brands from all different industries and fields. One of our on-going clients, B Inspired Healthy Lifestyle came to us to brand her new range of teas and herbal blends. Founder Beata Ozhylovski was kind enough to talk about her experience with our designer Stephanie.
SO WHAT DOES B INSPIRED DO?
'I'm a naturopath and nutritionist with a range of herbal teas and superfood blends. I founded B Inspired to focus on running a whole-food, organic catering service with tailor-made menu plans for specific dietary requirements. Through Naturopathy I then discovered a passion for herbal medicine, which inspired me to create the botanical range of organic herbal teas and superfood blends.'
WHAT DID BEATA WANT OUT OF HER BRAND?
Some of the ground work had been done already when Beata came to Stephanie. A simple logo had been created but there was nothing else to go by. She know what she wanted to convey but had nothing more than a typographic logo to work with. Stephanie focused on designing in a way that looked 'Healthy, vibrant, fresh and modern but classic.' These were the most important elements to the client.
HOW DID WE HELP BEATA REALISE HER VISION?
Although Beata came to GCGD with a pre-established logo, she needed help carrying it across to other material as a consistent brand. Stephanie helped Beata create an assortment of promotional material such as postcards, vouchers, brochures but most importantly helped design a suite of labels for her botanical range of teas and blends.
WHAT WAS THE MOST VALUABLE PART OF THE EXPERIENCE?
Beata often enjoyed coming into our studio to work alongside Stephanie, a process we enjoy and encourage. 'I loved having Steph work with me from the beginning of my journey, see the vision I was trying to create and help me create it. I enjoyed coming into the studio to throw ideas around and create some great marketing material.'
With a consistent brand and design style, Beata can now focus on building her audience. 'My business is growing and expanding, slowly but getting there.'