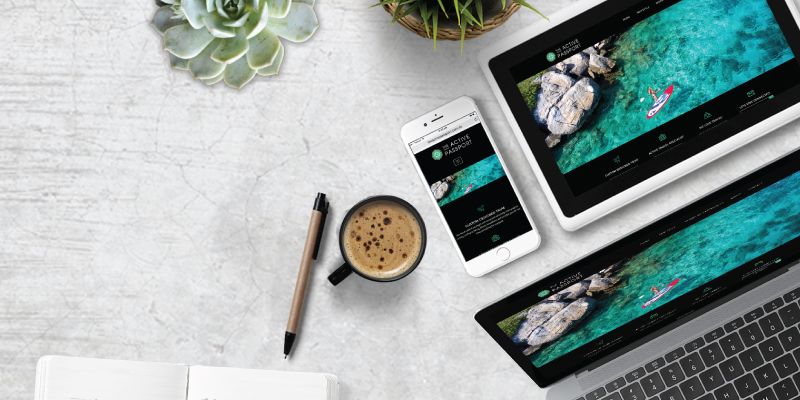 Jenni and Richard recently moved to the Gold Coast and wanted to kick off their new business idea - The Active Passport. They saw a need for specialised travel consultant services for active travellers. They came to us to get help turning their ideas into a visual brand. They're extremely happy with the results and have even had comments from other marketers about it being "totally on-point".
About The Active Passport
The Active Passport is a travel booking service business that specialises in active travel holidays. When Jenni and her husband, Richard, came to us they had their business idea and vision and a sense of what they wanted for their branding.
How we helped
We took a fun but professional approach to this branding project to best relate to their target market of 'active travellers'. We worked on a full suite of designs to create consistent and memorable branding/marketing - everything from logo design, style guide, business cards, with compliments card design, marketing flyer and website design.
What Jenni thought about her experience
Jenni found working with Steph and the GCGD Team to be a fantastic experience. Jenni said, "Steph was fabulous to work with. Right from the start Steph was able to understand what we wanted simply from our discussions about our business, vision and audience. She captured what we needed beautifully and although the process was a lot longer than we'd anticipated, it was very thorough. The whole team pitched in, using their creative talents to turn our words into a visual brand. They were able to create something that can grow with us as we develop our new business, navigating and moving tact as we see the need. We love everything they've designed for us and we know it's great because we've even had positive feedback from other marketing professionals!"
Jenni and her husband are avid travellers who love active travel and the whole health and wellbeing lifestyle. They brought their idea to market to help others with similar interests. You can find out more about them at www.theactivepassport.com.au.