We have collated this introductory business handbook as a guide to help you and your
business when starting out. We understand starting a business can be confusing, and for a lot of people they have learnt or studied their profession, and may be amazing at it, but it doesn't mean we all understand marketing, business structures and setup, or accounting.
THANKS FOR YOUR INTEREST IN THE GCGD HANDBOOK! PLEASE VISIT THIS PAGE TO DOWNLOAD YOUR FREE COPY. YOU CAN ALSO POP INTO THE STUDIO IF YOU WOULD LIKE A PRINTED VERSION ALONG WITH A GOODIES PACK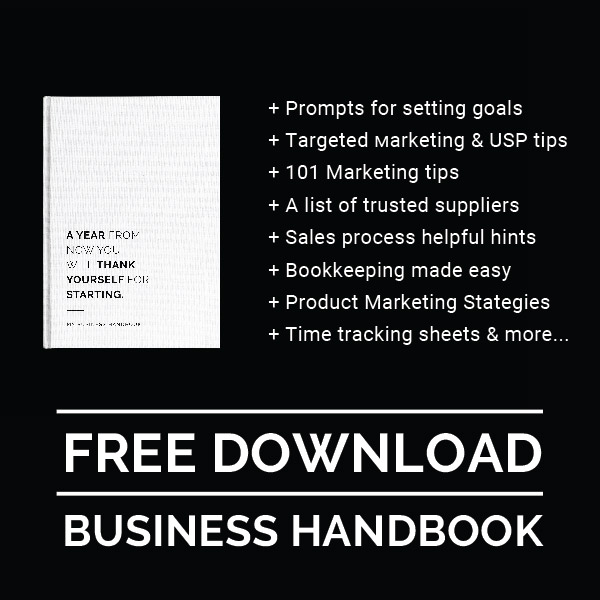 We have collated this book to address the basic and to present it simply (you don't need a business degree to understand it :)) We would like to thank all of our colleagues that have taken the time out to contributed to this handbook. Some topics are:
+ Mind Mapping and prompts for setting goals/dates
Mind mapping is a great way of dissecting your business into multiple areas and facets. Grab some butchers paper, some pencils and start writing down everything, don't be afraid to get it all out, no idea is stupid. From here you'll be able to decipher what is of value and what goals +
tasks you need to set to get results for your business. Now Setting Goals - it can help you take your business to the next level. The trick is, once you make a goal, you have to work to make it happen. Start planning what your business will look like in 1 year

+ Your core Principles
When you are faced with a tough decision, weigh up the pros and cons can be hard. This template is a very simple easy starting point of deciding what is the core basis of your business. Next time you are debating what to do in a tough situation, look at these — it will tell you if you should or shouldn't do it.

+ Targeted Marketing & USP tips
Take a look at what your competition is doing. Now do it differently; make it memorable. It's not enough to be selling a quality product/s services. Your customers may be comparing you to your competition and if you look and sound just like them, you might be overlooked. Do some research: call and email your competitors. Once you have assessed this think about how to market yourself — ignore them, concentrate on your own business and have confidence in yourself.

+ 101 Marketing tips
W have 101 different marketing ideas for you to explore. Think about where your target market or referral partners are. What section/areas are best to focus on to get best bang for buck from your marketing budget? GOOD LUCK with your business and be active. I hope these tips are useful for you. Two hour marketing brainstorms can be available to explore ideas and options. (Sourced: http://sbinformation.about .com)

+ CREATING YOUR OWN BRIEF AND DESIGNS
The secret to creating any effective logo, branding, business card, flyer or promotional product is to create a brief first. This will help you make more effective decisions. Remember the outcomes you need. Design + Marketing go hand in hand, designs should not just look good/cool, they need to convey a message.
+ YOUR ELEVATOR PITCH
Imagine you're in an elevator with your ideal client. You have 20 to 30 seconds to tell them what you do to get their attention – your "Elevator story". Aaand go! Ok so that scenario may not occur, but preparing an Elevator Story is valuable because it's a short, sweet way of telling potential clients or customers what you do and piquing their interest in your business.
+ ORGANIC SEO - YOUR WEBSITE CAN BE YOUR NUMBER 1 EMPLOYEE
Coming up in Google may or may not be important to you. Your "Business Name" may not have a lot of competition in Google therefore usually it is not hard for your site to rank high. Often businesses want new clients — the people that haven't heard of them. Some statistics report that 97% of consumers search for local businesses online.
+ YOUR PROFIT AND LO$$ + Bookkeeping made easy
Simply put, this is a report that gives you, the business owner, a story about what money has come into your business ... And what money has gone out of your business ... over a period of time that you want to look at. It really is that simple! FEATURE: 10 quick tips to increase your bottom line
+ A list of trusted suppliers
After being in business locally for 15+ years we have learnt to value good people and good businesses. Save yourself the pain and utalise a trusted referred person :)
+ Sales process helpful hints
Welcome to the world of sales :) Although you may be very good at your profession it doesn't mean you can sell very well. We have some prompts to help you formalize your process. Try and think about what your clients want, as opposed to what you want to say. It's always about them.
+ Time tracking sheets
Once your up and running and you start analyzing your time/profit. This is a great template to separate the daily tasks. Whats making you money? Whats costing you money?
THANKS FOR YOUR INTEREST IN THE GCGD HANDBOOK! PLEASE VISIT THIS PAGE TO DOWNLOAD YOUR FREE COPY. YOU CAN ALSO POP INTO THE STUDIO IF YOU WOULD LIKE A PRINTED VERSION ALONG WITH A GOODIES PACK
The secret to getting ahead is getting started! Starting your own business is one of the most exciting adventures you will ever undertake. This book has been crafted by the team at Gold Coast Graphic Design and also:
David McLean from Mentor for Hire - 1300 302 311 - www.mentorforhire.com.au
Ali Edgar Copywriter - www.aliedgar.com - 0414 647 089
Jeannie Anderson - Mayberry Meldrum and Anderson - hwww.mmaacc.com.au 026672 4044
Jon Dale from Small Fish - www.smallfish.com.au +61 2 5612 9836
Chris Bent - Sales Extraordinaire