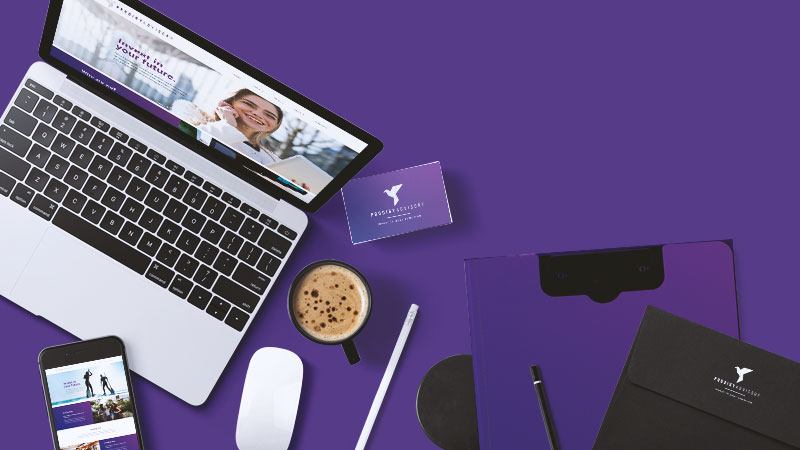 Financial planner Tony Pham was looking to start a firm geared towards a younger audience. He knew what he wanted his brand to convey but needed help making it happen. He called us at Gold Coast Graphic Design and the rest is history. Our designer Racheal worked with him to create a vibrant new brand that he now loves.
SO WHAT DOES PRODIGY ADVISORY DO?
'Prodigy Advisory is a boutique modern Financial Planning firm that caters to the young working professional millennial generation. We try to do things a bit differently compared to your normal Financial Planners/Advisers that you might see in the corporate world.
This means going outside the box, innovating and reinventing the wheel, to ensure clients receive a remarkable experience along with tailored customized financial advice to help them achieve their goals and dreams.'
WHAT DID TONY WANT OUT OF A NEW BRAND?
Tony came to us with some initial ideas, which really helps to show us which direction we will go in. He was great at being able to express exactly what his business was and the feel he wanted to reflect to his target audience. 'I envisioned my brand to portray; Integrity, Clarity, Fun/Vibrant, and Hope. I wanted my target market to feel as if they could relate and trust the business immediately and build a long term relationship.'
HOW DID WE HELP TONY REALISE HIS VISION?
Racheal began work on a logo, before carrying it across to other mediums. The symbol was a large part of the process. 'Originally, I wanted a Geometric/ Abstract Shape as my logo but being the indecisive person I am, I came across an origami crane. After doing research on what a Crane symbolizes (which means hopes and dreams) I thought it was a perfect representation of my business. The end result turned out better than I could have possibly imagined. Racheal created me an origami crane that is modern and visually impressive. It's honestly, better than I could have imagined.'
After the logo was complete, Racheal went on to design other material such as business cards, presentation folders, an email signature etc. She looks forward to doing more work for Tony as his business grows.
WHAT WAS THE MOST VALUABLE PART OF THE EXPERIENCE?
'Having a direct point of contact to talk to about my vision and ideas around my business. Racheal knew what I was after and was able to provide me with recommendations and other ideas that would suit my business.'
'Honestly, I cannot thank Racheal enough. Having attended several conferences to hand out my business cards and presentation folders, the feedback and reviews have been incredible. Various Industry professionals have thought the branding was fantastic, unique, and definitely memorable compared to other financial firms.'