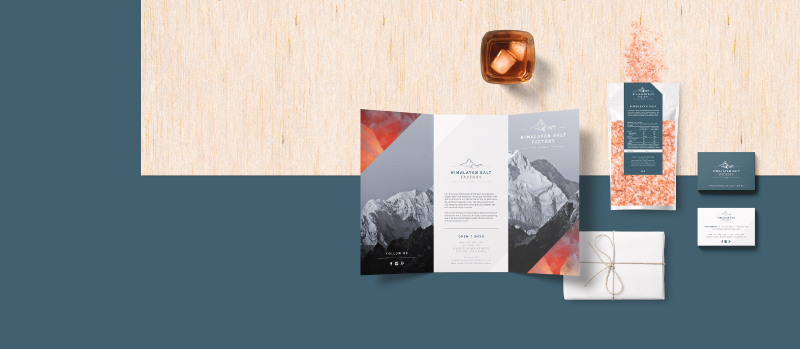 We love having the chance to help clients brand their products, especially when those products centre around food-related items! Our designer Racheal undertook a project last year with client Patrik Ujszaszi, co-founder of the brand Himalayan Salt Factory.
SO WHAT DOES HIMALAYAN SALT FACTORY DO?
'The Himalayan Salt Factory is the largest retail and wholesale Himalayan Salt supplier in Australia. Our products include Himalayan salts (for cooking & bathing), natural salt lamps and selenite crystals. We also offer salt therapy and halotherapy.'
WHAT DID PATRIK WANT OUT OF A NEW BRAND?
The business had been going for some time, but Patrik was after a fresh new look when he sought out the services of Gold Coast Graphic Design. They needed to bring everything together with one coherent look, something with consistency and modern appeal. He explains, 'we wanted the branding to convey a fresh look with all of our promo stuff.'
HOW DID WE HELP PATRIK REALISE HIS VISION?
Once a visual brief had been put together, Racheal focused on redesigning a functional logo for them which could be carried throughout all of their promotional material and packaging. 'Rachael started from scratch with a logo design for Himalayan Salt Factory as a brand and more importantly, followed up with product labels, stickers, care instructions, flyers, brochures and business cards.' An appropriate colour scheme was suggested to Patrik, who loved the idea. The dark tones offer a lovely contrast to the icy coral pink of the salt itself.
WHAT WAS THE MOST VALUABLE PART OF THE EXPERIENCE?
Overall, Patrik had a positive experience with Gold Coast Graphic Design and enjoyed the process of working with Racheal. 'The most valuable thing is how Racheal kept track of the many aspects of the process by giving us alternative designs to pick what best suited us. Also, her timeliness with schedules was great. Her input was highly valuable and helped narrow down the final logo.'
Patrik also told us that the branding and marketing material still continues to get comments and draw people in. 'It has been over a year and we still get compliments on how eye-catching and well designed the logo is. For example, our brochure is simple yet entails every area of Himalayan Salt Factory's business with a nice layout that sells.'